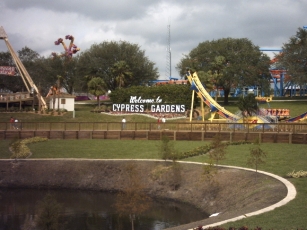 NEWS Cypress Gardens closed in September 2009, but was acquired in January 2010 by Legoland parent Merlin Entertainments Group. Read more about this in News and check out 5 Reasons Why Legoland Florida Will Work.

In December of 2004 Cypress Gardens reopened as Cypress Gardens Adventure Park. As one of Florida's original tourist attractions the park proved to be an iconic destination with its lush botanical gardens, spectacular water-skiing show and hoopskirt-donning Southern belles.

It's all back -- and more. With more than three dozen rides and attractions along with live animal exhibits, a new shopping district and a refreshingly welcome water park set to open by the summer of 2005, Cypress Gardens is everything you loved -- and then some.

eCypress.com is the new park's first unofficial website. We were there during the construction phase. We were there during the sneak preview openings in November of 2004. We were there after the park officially opened. We may very well be there tomorrow.

The parks collection of rides may be going away, but we have pages about them too so you can relive the memories. We've got tips on when to go, what to see and even where to shop and where to eat. Check our News page for the latest information on new rides and attractions, the 1.4 million in attendance milestone in its first year and our March 2005 interview with Burma Davis Posey.