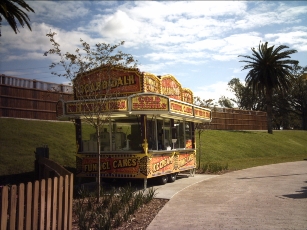 You can't have Southern hospitality without the exquisite Southern cooking. With an extensive collection of snack kiosks, counter service meals and high-end table service restaurants Cypress Gardens Adventure Park knows that it has to keep you fed -- and fed well -- if it wants you to stay in the park and enjoy it as long as possible.

While you will find plenty of snack items like popcorn, cotton candy, Dipping Dots and even an indoor ice cream store just by the water ski show stage let's go over the places providing more substantial fare.

Aunt Julie's Country Kitchen
Historians credit Dick Pope's wife Julie with being instrumental in being quick on her feet to grow the park's attendance and inspiring the use of the park's signature Southern belles. Now she lends her name to the park's table service institution doling out tummy-filling comfort foods. We're talking chicken pot pies, turkey dinners and chicken and dumplings. We're talking roast beef, meatloaf and roasted pork trimmed with all of the fixings like mashed potatoes, macaroni & cheese, green beans, corn, pinto beans, turnip greens, coleslaw, fried apples, cornbread, biscuits and salads. Dessert? If you still have room why not give dig into a fruit cobbler with a scoop of vanilla ice cream or apple dumplings, key lime pie or pecan pie.

Snively Mansion
If Aunt Julie's sounds hearty fare would you believe that it's not even the fanciest eatery in the park? Tucked away in the elegant Plantation that once housed the original park's Gone With the Wind museum, Snively will take to a fine dining menu in 2005 (it originally served up all-you-can-eat holiday feasts when the park opened in December of 2004).

Backwater Bill's
This rustic counter-service establishment with covered seating by the park's entrance features barbecued ribs, smoked chicken and pulled pork entrees, coupled with baked beans, potato salad, cole slaw, Brunswick stew or corn on the cob.

Adventure Grill
As the one place to snap up something substantial in the park's ride area the grill features burgers and fries. During the park's preview weekend in November the grills and fryers weren't operating yet so the covered counter service joint was serving hot dogs with bags of potato chips.