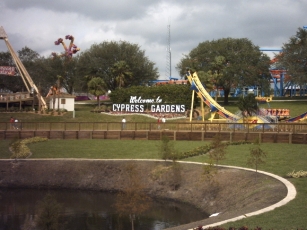 Florida's original theme park opened in 1936 when Dick and Julie Pope turned their dream of a botanical garden attraction into a theme park reality.

The lush backdrop of Florida's tropical center soon attracted more than just budding horticulturalists and warmth seeking tourists from the North. Hollywood called, looking to utilize the park's serene beauty in movies and more.

That's when things got interesting. Films starring the likes of Esther Williams, Betty Grable, Don Ameche and Ricardo Montalban were shot at the park and tourists flocked to the park. Between the lavish gardens, the gravity-defying water stunt shows and the Southern belle charm that soon attracted dozens of Miss America beauty pageant winners, Cypress Gardens was an iconic fixture as the defining attraction of the booming panhandle state of Florida.

More than 50 million guests toured the park through its nearly seven decades of operation. Then, on April 13, 2003, the park closed. The attraction had run into financial hardship with attendance falling and losses mounting. Park attendance, which had peaked at 1.7 million guests in 1976 had slumped to just 600,000 day guests the year before it closed. While the closing wasn't an overnight event -- the park had been through a series of owners including Anheuser-Busch -- the abrupt end of Florida's original tourist attraction came as a shock with its closure announced just days earlier.

What would become of Cypress Gardens? Would the valuable property that the attraction rested on be carved into parcels and handed over to commercial establishments and residential developments? Would Florida intervene?

Activists groups like Friends of Cypress Gardens formed to help preserve the park while displaced employees wondered if there was a way to restore the park back to its former glory.

The park's demographics during its final years were telling. While Florida itself was attracting millions of young families every year to Disney World and other area theme parks more than 90% of the guests at Cypress Gardens consisted of senior citizens.

If the park were to ever be restored it would still have to retain that nostalgic charm that drew in retirees and seasoned tourists while finding a way to draw more locals with their families and the younger Florida-bound travelers.

Perhaps it's ironic that Florida's savior came from an amusement park owner in Georgia. Kent Buescher had opened a modest animal park in the outskirts of Valdosta, Georgia, and over the years built it out into one of the Southeast's largest regional amusement parks. He had a plan. Restore the beautiful gardens. Bring back the jaw-dropping ski show and beautiful hoopskirt-swaying belles. Yet do all this while also earmarking a section of the park for the animal shows and exhibits that had proved so popular at his Wild Adventures park while devoting an entire side of the park to coasters, family rides and kid-friendly attractions to win back the younger audience that had neglected the park in its twilight.

The park was looking to reopen early in the summer of 2004 when delays pushed the Grand Opening. Then, nature had its say. In a savage streak of bad luck three hurricanes hit the Winter Haven area, setting back the construction process even further.

Kenny Rogers had been booked for a November 26, 2004, country music concert months earlier and while the park was far from ready it went ahead and held the its first preview day that day, with the soft opening sneak peeks continuing over the following weekend as well. On December 9, 2004, the park officially opened as Cypress Gardens Adventure Park.

With that the park turns the page on not simply a new chapter but a new beginning. It's got a stunning history to live up to, yet something tells me that Kent Buescher wouldn't have it any other way.