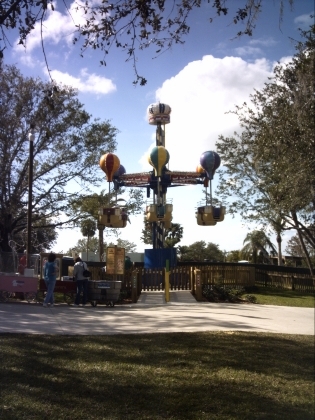 So you've got your mind made up and you're ready to head out and enjoy a visit to the brand new Cypress Gardens Adventure Park. Excellent choice. But how do you get there? How much will it cost to get you over the turnstile? When is the park open? You've come to the right page -- sort of. While we will answer most of those questions here, pricing and schedules are subject to change so you should contact the park directly to confirm anything found on this very unofficial information page.

Where is Cypress Gardens Adventure Park?

Great question. It's at 6000 Cypress Gardens Blvd in Winter Haven, Florida. It's less than an hour's drive from Disney World and even shorter than that from Tampa. It's a couple of miles West of US-27, taking the 540 Exit. But since everyone is coming over from a different place click on the map below and enter your address. Yahoo! will then map out your entire trip.
How much will it cost to get in?
It will cost you $7 to park at Cypress Gardens Adventure Park ($9 for RVs) and park admission is $34.95 (plus tax) for ages 10-54 while kids between the age of 3 and 9 and adults older than 54 pay a discounted rate of $29.95 (plus tax). Kids two and under are free. Submit your ticket at Guest Services before you leave and you will be able to come back one more time for free within the next 7 days.
If I fall in love with the park is there an annual pass?
Absolutely. It is currently $64.95 and it includes admission to the its sister park, Wild Adventures in Valdosta, Georgia -- a 3-hour drive North of the park.
Is the park open right now?
The park is open 362 days a year. It closes on Easter Sunday, Thanksgiving Thursday and Christmas Day. The rest of the year the park opens every morning at 10am. Closing times vary though the park seems to be open until at least 9pm on weekends while on slower weekdays it can close as early as 6pm.
Are some of my other questions answered elsewhere on this site?
Maybe. Just follow any of these linked questions for the answer.
What are the height requirements for the rides
What is there to eat at the park?
Are there any hotels near the park?
Where can I go talk about Cypress Gardens Adventure Park?

Is this the end of the Park Info page
Indeed, it is.