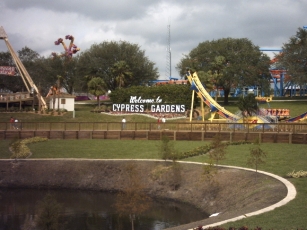 It's official! Merlin Entertainments Group has acquired Cypress Gardens Adventure Park. More specifically, it has satisfied all of the outstanding liens and taxes and has been assigned development rights. A press conference is scheduled for January 21, 2010, when Merlin will likely flesh out its vision for the property.

The popular bet at this point is that Legoland Florida will now be coming to Winter Haven, Florida, incorporating colorful Lego-themed attractions into the botanical gardens and lakes of Cypress Gardens. Cynics may be scratching their heads. Cypress Gardens has now failed in several different incarnations. It's too far from the I-4 freeway. It's in a remote, rural location. Central Florida is a saturated market for theme parks. I can see merit in some of these knocks, but I think Legoland Florida will be a hit anyway. I have my reasons. Here are five of them.

1. Legoland is a global brand - One of the challenges at Cypress Gardens was letting the public knows that it exists. Even at the peak of its revival, the only affiliation it had was that it was the smaller sibling of Valdosta's Wild Adventures. As a European brand with worldwide recognition, everybody knows Lego -- especially the hordes of European tourists who arrive in Orlando International Airport throughout the year. Instead of being cross-marketed at a slightly larger park in rural Georgia, Legoland Florida will have the popular Legoland California (with millions of annual visitors) and the entire empire of Legoland parks promoting Legoland Florida (and vice versa). In short, tourists in Orlando won't shrug at the one hour commute to the park.

2. Merlin has the moeny to make it work - When Kent Buescher was ready to open Cypress Gardens, three hurricanes damaged the park, delaying the opening. Collecting on the insurance was a challenge, so Cypress Gardens Adventure Park never evolved beyond being Wild Adventures Lite. It took too long before a marquee thrill ride -- the Starliner wood coaster -- arrived, and by then the park's fate was sealed. Merlin will be able to make the initial and continuing investments to develop attractions that will appeal to a wide audience, including original rides that you can't find at traveling carnivals.

3. Legoland will become a destination - Just as Legoland California has gone on to open a premium aquarium exhibit, an outdoor waterpark, and is readying a hotel, Legoland Florida should be able to capitalize on its location as a destination. A Lego-themed hotel would be as popular as the Nickelodeon Hotel in Central Florida. It will draw young families who won't be too far away from the Orlando and Tampa area parks and attractions.

4. Legoland's educational angle will help weekday traffic - One of the cool things about Legoland California is that it offers programs throughout the week for home-schooled children and toddlers that are not school-aged. There are also camps during the summer and other holiday breaks. Since Lego-building is seen as a learning activity, it's a strong selling point. Yes, Carlsbad is an upscale residential community. Winter Haven isn't exactly there. It's still incremental, and Legoland will also be a major field trip draw for Central Florida elementary schools.

5. Merlin can't let the park fail - In October of 2009, London's Financial Times wrote that Merlin plans to go public in early 2010. Heading its IPO, Merlin is unlikely to neglect any of its properties. It will file quarterly financials and have a responsibility to its shareowners to make every park in its franchise work. The Cypress Gardens location is going to take some work -- more than the bargain that Merlin is paying to get in -- and Merlin will be motivated to show that Legoland Florida is a success (if only so investors will be encouraged at the potential of MORE Legolands in the United States).