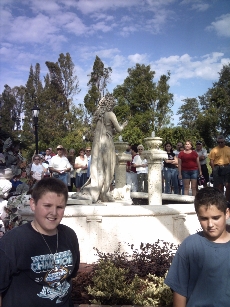 January 2010
Cypress Gardens sadly closed in September 2009. Thankfully, the closed park was purchased in January 2010 by Legoland parent Merlin Entertainments Group. Legoland Florida! We'll find out more in the coming weeks, but the park appears to be saved yet again. Discuss the news here.

November 2008
Coaster lovers cringe! Waterpark lovers rejoice! Cypress Gardens is closing on November 16, 2008. It will reopen in mid-March. The three dozen amusement park rides will be removed, making way for the new parking lot. The animal exhibits will also go away. The upside is that the waterpark will be expanded. The botanical gardens and legendary water ski show will remain. Discuss the news here.

September 2007
It's official. Cypress Gardens has a new owner. Land South Holdings wound up with the top bid -- sadly, the only bid -- at $16.8 million for Cypress Gardens. You can read more about that here. Yes, it's great news to know that the park will be saved. Now let's see if the new ownership group can improve the park instead of go on a cost-cutting tirade. This comes just months after Starliner finally opened. Let's hope that we don't have to wait an eternity for new additions. Post your thoughts about what you would like see the new group do here.

August 2006
After a breakthrough 2005 season, the improvements keep coming. The waterpark is fully operational. A few of the flat rides haven't been up all summer and many of the additions for 2006 have yet to open. They're coming, albeit slowly. The only trouble spot appears to be the lack of construction work to get the Starliner coaster up and running in time for the 2007 season.

December 2005
The park celebrated its first 12 months of operating history with 1.4 million guests clicking past the turnstiles. The attendance was roughly twice as high as many had predicted for the park in its first year and it's where Cypress Gardens figured that it would be in its fifth year. Ambitious plans for 2006 are underway, with the Starliner coaster now expected to open in time for the 2007 season.

July 2005
Galaxy Spin -- the park's fifth coaster -- and the Polynesian-themed Splash Island waterpark will both open later this month. Yes, the waterpark is included with theme park admission. The rest of the year is also starting to come together. With attendance now expected to clock in at 1.5 million this year the park's spectacular success means even more cool things to come. Kidzpalooza debuts in September with kid-friendly activities. In October PHOBIA will transform the park into a creepy haunt-fest. And, yes, come December the same stunning decorations and lights that spruce up Wild Adventures in Georgia will help kick off the holiday season in Florida.

March 2005
eCypress.com was honored to have Burma Davis Posey -- the President of Friends of Cypress Gardens and the person responsible for helping save the park from demolition in 2003 -- take some time to answer a few questions. You can find the insightful four-part interview here.

February 2005
With Kent Buescher now projecting park attendance of 1.5 million -- nearly three times the attendance achieved during the park's final year and close to the 1.7 million that showed up in the park's biggest year (1976) the company broke ground on Splash Island waterpark and announced that it's newest coaster! Galaxy Spin is a spinning mouse coaster similar to Primeval Whirl at Disney's Animal Kingdom with UFO themed coaster cars. So, no, it won't be the flying coaster that we thought at first. The coaster is set to open in May and the waterpark is aiming to open later that month but it may only open partly with the rest of it during the summer.

January 2005
A new coaster for Cypress Gardens Adventure Park? Absolutely. In a story in The Lakeland Ledger discussing how park attendance of 200,000 over the first two months are on the high-end of expectations -- creating a welcome problem as the park looks to add to its 1400 parking spaces for peak periods -- the piece wraps up with Kent Buescher expecting to announce a new roller coaster come February. Our bet is that Florida is about to get its first flying coaster. This is why.

It's official! The first unofficial site for Cypress Gardens Adventure Park is now open. With roughly 50 pages of original content -- and dozens of photographs -- we hope you will come to count on eCypress.com as a trusted third party source, above and beyond the park's official namesake site.

December 2004
Cypress Gardens Adventure Park officially opened on December 9, 2004. If you want to learn what inspired the creation of this site do check out Heaven Kent: Why Kent Buescher Will Save Cypress Gardens.

If you want to contact us for feedback, corrections or inspiration, we welcome any and all feedback. We also invite any travel journalists or news reporters to contact us as a third party source for any Cypress Gardens related stories you may be working on. We promise a quick turnaround on e-mail or live interviews. Just write us.