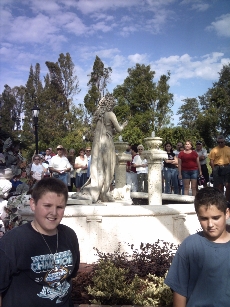 Apart from the garden's breathtaking beauty, the original Cypress Gardens always knew how to put on a dazzling good water sport show as its signature water ski performance found parkgoers cheering from the dueling covered seating areas as skiiers hurled over ramps, stacked themselves high on water-skidding pyramids and even threw in some Delta Kite hang gliding action for good measure. It's still there. You also have even more athletic wonder at display in the indoor Royal Palm Theater as ice skaters weave across the icy stage in a figure skating showcase. Yet the new park has even more shows and attractions than the original park ever did.

From a rowdy cowboy comedy show to animal shows like Pirates of Cypress Cove at Mango Bay that will debut when the animal section of the park opens later in 2005, Cypress Gardens Adventure Park knows how to command an audience.

If you want to see something truly special make sure you are near the garden's fountain when the living fountain springs to life as a beautiful sculptured statue comes to life, sprouting water from her fingertips in a show that brings new meaning to the saying "go with the flow."

On select nights you will also be treated to a laser and fireworks show on the shore of Lake Eloise -- the perfect way to cap a great day at the park.

If you're the unflappable type, check out the Wings of Wonder exhibit where you walk through a climate-controlled greenhouse housing twenty different varieties of butterflies.