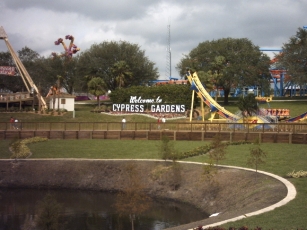 The original park ride -- a panoramic tower that rises up 160 feet on an extended arm while rotating -- is still there. It has been renamed the Sunshine Sky Adventure and on a clear day you can see more than just the entire park from an eagle's eye perspective. You along with as many as 70 other passengers can also look out as much as 17 miles off to the distance during the gentle six-minute trip up and down. But even if the skies aren't perfect you will still be able to look out and see the famous Bok Towers and other Winter Haven destinations. Because the platform rotates every seat is a good seat. Once the attraction is airborne you are welcome to stand up to the railed ledge if you want to take a picture or take a closer look around.

Height Requirement -- 48 inches unless accompanied by adult

TRIVIA -- Sunshine Sky Adventure opened in 1983 as Island in the Sky.