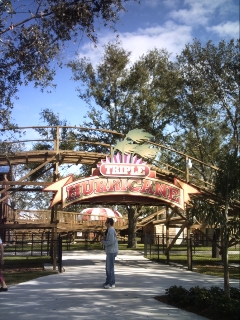 Wooden roller coasters have always had that retro throwback charm. While steel -- twisted into seemingly improbable feats of fancy -- has supplanted lumber as the coaster designer's building material of choice it has simply left more than a few coaster enthusiasts yearning for the rattle and hum of traditional woodies.

Cypress Gardens had its junior wood coaster erected well before the park opened. It just wasn't married to a name. Then Florida was hit with four brutal hurricanes in 2004, with three of them passing either over or within blowing distance of the Winter Haven park. The storms delayed the park's opening. It ravaged the gardens. It made rubble out of some the shops and eateries under construction. Yet the wood coaster held its ground and stood tall to survive the impact of all three fierce windstorms.

Forever wearing the badge of withstanding the onslaught of the three hurricanes Triple Hurricane was the natural moniker. The fact that the ride ends with three small bunny hop hills was simply the icing on the cake.

The H3 (hey, why not slang it up that way) is tame by comparison to some of its larger wood coasters. Of the few remaining wooden roller coasters in Florida -- Gwazi at Busch Gardens in Tampa and the Dania Beach Hurricane in Hollywood -- H3 is the smallest. You won't be fumbling for seatbelts because the lap-bar is plenty to keep you in place.

Just 40 feet tall and with a top speed of only 32 miles per hour it's the ideal coaster to whet your appetite for bigger thrills without losing your lunch. You will travel over 1365 feet of railed lumber on your quest. While you won't get a whole lot of airtime in the coaster -- you know that "fly out of your seat" feeling you sometimes get on larger wood coasters -- sit in the back if you want to feel more of a kick.

Height Requirement -- 36 inches

TRIVIA -- What were the three named hurricane stroms that struck Winter Haven in 2004 to inspire the coaster's name? Charley, Frances and Jeanne.

MORE TRIVIA -- How much did Triple Hurricane cost to build? $2 million. The only opening day ride that cost more to build? Swamp Thing set Cypress Gardens back to the tune of $2.5 million.