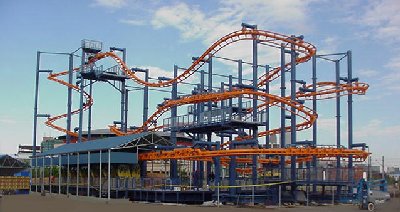 When the history books point to Florida's first flying coaster will it be Cypress Gardens Adventure Park taking the credit?

It's more than likely. In a story over the weekend in The Lakeland Ledger Kent Buescher revealed that the park will announce its next roller coaster come February. He mentioned that the coaster would be the handiwork of Italy's Zamperla.

The park is already stocked with a dozen flat rides from the manufacturer including the popular Disk'o as well as the Fiesta Express mini mouse coaster.

Did Kent mention the new coaster -- one in which the tracks are being painted as we speak so it will likely be a quick installation in time for the peak summer season -- would be Florida's first flying coaster? No. But he didn't have to. Zamperla has a wide catalog of flat rides but only makes a few coasters. Because the park already has a Fiesta Express it narrows the possibilities to Volare -- the flying coaster pictured here, Zig Zag spinning mouse coaster or Family Coaster.

Zamperla's spinning mouse is nearly identical to the Reverchon model that Disney opened at Animal Kingdom as Primeval Whirl. The last thing Cypress Gardens wants to do is simply duplicate what can be found less than an hour away. Zamperla's Family Coaster is a small coaster in a park already rich with junior coasters. So by process of elimination, intuition would indicate that Winter Haven's about to take flight with Volare -- no doubt themed to the Delta Kite hang gliders that are featured in the park's famous water ski show.

Seating four to a row in the coaster train's six rows -- did we really say seating? No. Riders secured in the coaster's harness will be in for a treat when the ride starts and the coaster tilts so that each passenger will be facing down -- as if on a hang glider. With a pair of small inversions and more than a few twists it will be the park's most daring coaster.

It's also perfect for the park given that it packs a wallop while still being compact (even its lift is a space-efficient spiral ascent) and not too tall (68 feet tall) to take away from the park's various sightlines.

If we're wrong we're willing to eat crow -- though we'd prefer if it were served up at Snively Mansion

If you want to contact us for feedback, corrections or inspiration, we welcome any and all feedback. We also invite any travel journalists or news reporters to contact us as a third party source for any Cypress Gardens related stories you may be working on. We promise a quick turnaround on e-mail or live interviews. Just write us.