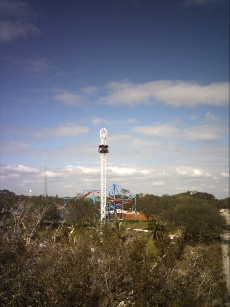 Until the water park opens in May of 2005 this is the park's wettest ride. Climb up the stairs to the loading platform -- and as you can see here the platform does provide a unique aerial view of the park so you may want to take a camera -- where you will hop on a raft and ride down one of two enclosed tubes. Each one is completely different so do make sure you check out both the blue and green slides.

The tubes twist and tangle on the way down and the racing water may splash you on the way down but there's a pretty good chance that the water will get you in the end (and we mean that in more ways than one).

Height Requirement: You can ride alone if you are least 42 inches and weigh at least 90 pounds. Otherwise, you can fit two or three riders for your trek down the darkened slides -- as long as the combined weight of the passengers doesn't top 350 pounds.